Amidst endless distractions. I have hit my biggest milestone for when I started my novel.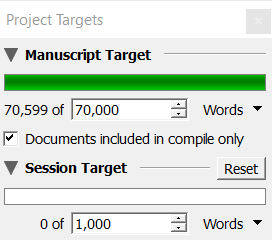 Now, I'm not done the story yet but I told myself for this to be publishable length, it definitely had to cross 70,000 words. I'm mostly sure that by the time I'm done this first draft, I'll be between 75K to 80K, who knows, I might cross the 80K threshold. When I initially started this, I was a lot more of a Scrooge with my words and my lore so I suspect that when I begin editing this (AND I MEAN REALLY EDITING IT BECAUSE IT'S REALLY TRASHY AND WILDLY INCONSISTENT RIGHT NOW) that it might go far past 80K. I don't want to make an estimate, but I would be happy with it hitting 100K but there's a chance it doesn't even get past 85K let alone 90K. Main priority before word count will of course be insuring coherence, and a consistent story. I think the real quality might have to wait till a third pass through.
I also pray that when I get to writing a new novel, my first drafts aren't nearly so incoherent.
I think you'll hear back from me when I hit 75K or 80K. Or even finish the story.
I said I'd be making shorter, less meaty posts, well here it is.