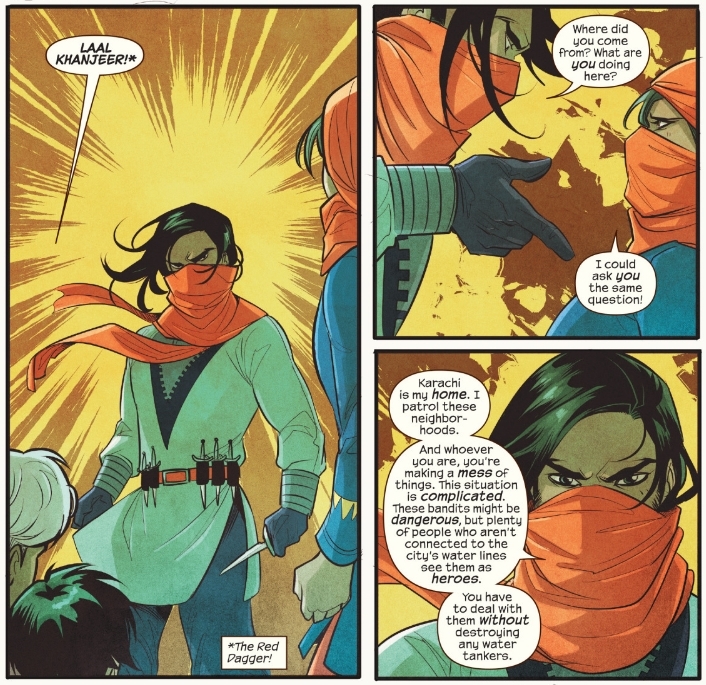 In case you were trying to get into Marvel: with Marvel's Marvel Now initiative, there's really no better place to start than… drum roll, please… now.
Ms. Marvel has always been a super hero series I've wanted to get into. I follow G. Willow Wilson on twitter and have always been interested this 'radical' change in our superhero's background, more so than when we get a black superhero or a Chinese one, Ms. Marvel is a true change in terms of a character's intersecting background. She's a women, a Muslim, and an immigrant, and now more than ever, that's the sort of character a lot of people need when they think about super heroes. In fact, it'd be pretty incredible to see Marvel maybe tackle an AU event where Kamala Khan deals with a post-2016 election US.
Most certainly my favorite part about Ms. Marvel #12 was the exploration of the world outside of the US. Kamala goes back Pakistan to get away from her every day struggles in New Jersey, having lost both her mentor and her dearest friend in the aftermath of Marvel's second Civil War.
I've always been intrigued by what goes on outside of the US in these superhero and supervillain laden universes. It's what really gripped me about DC's New Superman series set in China. Here we get the briefest of glimpse at a hero and a complicated hierarchy in Pakistan. It gives us the smallest impression that the US isn't the only one with heroes combating injustice and overwhelming odds, and I'd love it if Marvel would be willing to look past the US, and to a smaller degree: the UK & Canada (though admittedly I could do with more Canadian love) because at the end of the day, what places would be most impacted or most in-need of these super heroes than war torn countries like a Syria or a Congo.
If the Terrigen Mist struck Congo or Syria and a hero was born out of it, how would that effect it? How would they fight against the injustices? Could they rise against wide spread terrorism and a corrupt government? If I was ever given the chance to helm a Marvel title, I think that's something I'd like to explore, and I'm happy Ms. Marvel #12 gives us a glimpse through the keyworld of the rest of this superhero filled universe.